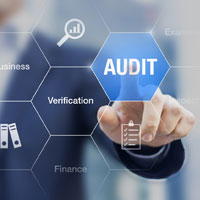 An independent audit guarantees a secure and standard conform implementation of a project or system. TRUSTFELLOWS is partner of major auditors for ISO27001, Public Key Infrastructures and Datacenter infrastructures and provides services to prepare, guide and maintain independent certifications. TRUSTFELLWOS assessment, training and knowledge transfer services reflect the current situation and potential gaps or the readiness for certification (white audit). In any case TRUSTFELLOWS guides towards an audit, through improvements up to the maintenance and re-audit to ensure a constant quality level for services and products of the audited entity.
For audit and assessment in the sector of Secure Infrastructures, TRUSTFELLOWS offers all services for the certification targets of ISO27001, EN50600 for IT Datacenters (future ISO Standard for datacenters) and TÜV TSI 3.2 & 4.0.
TÜV TSI Audit preparation, guidance during the Audit and follow-up on audit recommendations and conditions
ISO 27001 Audit Support to prepare and guidance during the audit
ID & Passport Personalization Site assessments for existing and new infrastructures in accordance with ICAO 9303 requirements.
Assessment and risk analysis of existing Datacenters and Infrastructures to determine and issues and level of compliance to international standards.