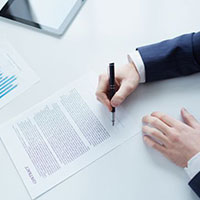 Maintenance Management is the process of planning and overseeing Maintenance Activities and Resources so that the organization does not experience downtime caused by faulty devices or systems. The goal of successful maintenance management is to keep all systems up and running  to ensure highest availability and reliability. Maintenance Management also controls maintenance budget and defines and controls maintenance procedures. TRUSTFELLOWS Datacenter Management is based on TRUSTFELLOWS own Methodology, developed over the course of several projects to optimize the planning and execution of Datacenter Maintenance. Amongst the Maintenance Management deliverables there is for example the Maintenance Plan, Operation Manual and Emergency Procedure Manual as key documents. All artefacts are designed, created and maintained under the process Document Management which is a core process under Maintenance Management. TRUSTFELLOWS Maintenance Management consists of 1 Policy and the 3 Process Groups, Core, Operational and External processes. TRUSTFELLOWS is specialized in Maintenance Management for Datacenters which includes Spare Part Management Corrective and preventive Maintenance in specific to ensure high availability. Thanks to the TRUSTFELLOWS Maintenance Methodology, Maintenance Management can be setup and executed most efficiently in existing or for newly planned Datacenters looking at time and cost savings once operational and increasing reliability and safety aspects at the same time. Annual maintenance plans, maintenance checklists and spare part exchanges before they are faulty are key strengths and disciplines of TRUSTFELLOWS Operational processes to ensure a 24/7 and failure-safe IT system hosting facility.
Disaster Recovery
High Availability and Disaster Recovery for Datacenter Infrastructure
Some services run 24/7 on 365 days/year using IT Infrastructure hosted within a Datacenter. High availability infrastructure is a pre-requisite for any disaster recovery solution. TRUSTFELLOWS provides assessments and solutions around Infrastructure redundancy and resilience to protect important business services from planned and unplanned downtime. The solution provides high availability and disaster recovery for mission critical Infrastructure. These solutions and procedures can be integrated with existing replication technologies and provide mechanism to replicate the data independent of the storage technology being used in the datacentre. This integration helps businesses to fully achieve a business continuity solution with minimal recovery point objective at the basic layers.