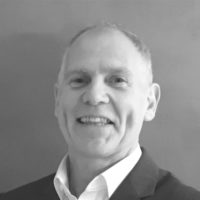 Ron ten Velden has >35 years of experience in Operations Management and Process Engineering in leading management positions, across different high tech industries.
Ron founded the Haarlem "new Age" Operations site based on Lean Manufacturing and Flow Line principles. Introducing lean Six Sigma as operations philosophy, training all managerial levels as Green Belt. He also introduced a new printing technology in the Netherlands and built the world first fully industrialized passport personalization site.
Displaying a distinctive involvement in presales support with strong direct customer interaction. Proving leadership in customer project delivery including product engineering and customer site build and operations process setup. All with a global geographical spread.
Ron held a position in IDEMIA as VP Documents & Perso sites within the BU Citizen Identity, and was responsible for customer solution engineering, customer project delivery and the global personalization operations with activities covered 25+ location globally spread.
Originally Ron studied Mechanical Engineering with a focus on operations research and is the inventor of two ID document security features for which Idemia has patents pending.