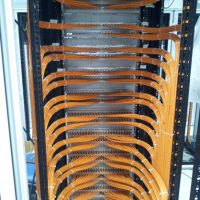 Datacenters require different communication systems for data, voice and image transmission. This includes also the network cabling between the IT Systems and how these are connected and managed. The following infrastructure communications are in scope of TRUSTFELLOWS services for secure infrastructure facilities:
IT Cabinets and cabling
Phone
Intercom
LAN/WAN Connections. Data Transmission & Carriers
As part of the Secure Infrastructure services TRUSTFELLOWS is offering assessment of existing communication infrastructure and planning and implementation of new communication infrastructure based on the client's needs and requirements.
IT Cabling with FUTURE-PATCH ®
TRUSTFELLOWS' partner TKM has been active in the field of data and communication networks for more than 25 years. Development and production are exclusively made at our site in Mönchengladbach, Germany. Thanks to our vast and innovative product range of passive cable connecting components in copper and fibre optic technologies, projects at renowned customers have been realized at home and abroad. This "know-how" is integrated into the new and worldwide unique RFID-based system.
Specialist solutions for specialists
Whether serial products or customized special solutions, all TKM products and services meet high quality standards. At TKM, quality values are lived at all corporate levels which are tailored to our customers' needs, at all product stages and at any time.
The development of a RFID-based Patch Cable Management System allows optimal use of switching ports and thus ensures a high return of investment. Each cable can be clearly allocated and electronically read using RFID transponders (Radio Frequency Identification). Every port is equipped with a reader antenna to immediately identify and notify a change in connection. In addition to copper and fibre optic connections, FUTURE-PATCH® even monitors ports at servers and switches. An open software interface facilitates integration into almost all common documentation systems and management systems.
Telecommunication Services with TKS
TRUSTFELLOWS' partner TKS is enhancing TRUSTFELLOWS' Datacenter services by offering planning of structured cabling, providing support with Datacenter construction planning and implementation thereof. The installation of data networks belongs to the core competences of TKS. Splicing fiber optic cables is also part of the service portfolio.
Installation of FUTURE-PATCH ®
The TKS GmbH is a licensed FUTURE-PATCH ® installer. Being an RFID based patch cable management system, FUTURE-PATCH ® is a management tool which is used by a variety of Datacenters today.